[ycd_countdown id="406″][/ycd_countdown]
The Holy Gasp is pleased to announce a new work of music and fiction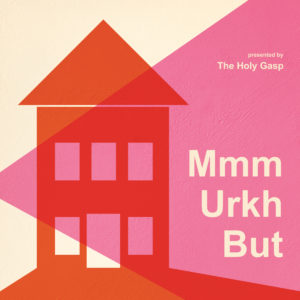 Mmm Urkh But
Out on March 30th!
Available everywhere online music and literature is sold and streamed.

Catch the concert at two separate times right here, or over Facebook and Instagram:
1:00 PM EST, followed by a Q&A
and again at 7:00 PM EST

---
Mmm Urkh But is a story about a man and woman, who, having concluded that the difficulties in their relationship are caused by an inability to communicate, embark upon a radical experiment in language, and commit to a life together in which three words alone are ever uttered. The music for Mmm Urkh But was written for bass clarinet and percussion, and marks the first new work of music to be composed during The Holy Gasp's composer's residency at The Historic Kiever Synagogue in Toronto's Kensington Market.
In the words of Jacob Scheier, Governor General Award-winning author of "More to Keep Us Warm" and "Letter from Brooklyn":
"Mmm Urkh But tells a story both familiar and original in style and content—Beckett-esque and biblical, ironic, absurd, yet genuine and poignant. One might think there is nothing left to say on the subject of communication in romance, or perhaps the impossibility of it, yet Hackman tackles the topic in a fresh and, at times, surprisingly delightful way."
---