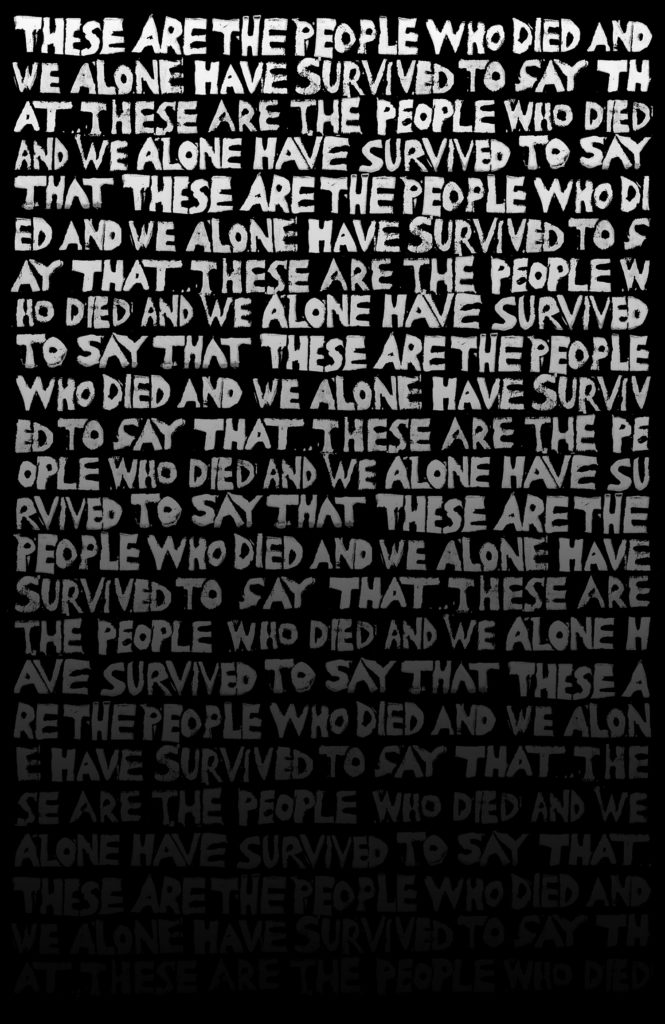 The Name of the Dead
Pronunciation
(if you feel it would be useful)
About the Dead
Courtney Jai Lynne Sayliss-Chong
Wife to Joe. Mother to Joey and Johnny
David Lambert
Legend....father of Sophie and Richard Lambert. Grandfather to Darcy and Kittie
Robin Edwards
Best Friend of Zoe Thorn. Ballerina in the sky, loved by so many
Roy
Stevens
Grandfather to Zoe Thorn
Justin Bokma
1974 - 2016

Brandon Crewson
A son, a father, a brother
Peter Keith Crewson
2019
Father, husband, friend, recently gone and deeply missed.
Bruce Robert Lessells
A kind heart, a lost soul.
Mary Agnes Lessells nee: Smith
Daughter, mother, sister, deeply spiritual.
Robert Hamilton Lessells
RCAF veteran, son, father, Canada Customs employee
Dave MacDonald
Dave, my friend, how I wish we could have one last drink together.
Kenneth Charles Russell
My father, an inspector of sunrises.
Jean-Marc Russell
John Marc Russell
My brother, father to my three nephews. He is deeply missed.
Abraham Rappaport
My Great Grandfather
Beryl Wilensky
My Great Grandfather
Bubba Chasha Kotkin Wilensky
My Great Grandmother
Hyman Wilensky
My Zeide. A giver, a care giver to the community, a lover of Judaism. Warm and loving.
Rebecca Rappaport Wilensky
My Bubbe. Strong, kept the family together, a lover of Judaism and Israel. Sometimes angry and hurt.
Louis Lesk
My Grandfather. A kind, dreamy, spiritual, soulful and musical man.
Ida Rachel Goldman Lesk
My Grandmother. A strong woman, sometimes angry and bitter. Kept the family going.
David Rappaport
My Great Uncle Davie, lots of fun, warm, loving, inspiring to us kids
Lieba Sharon Wilensky Lesk
My mother, full of life, a giver, vivacious, loving, soulful
Anna Behun
Anna Beh-hoon
Vincent Edwards
Mary Ondovcik
Mary Ondovick
Suzi (Susan) Horton-Ifill
1966 - 2013

Reynold Benjamin Gibbs
Harry Himelstein
Our dear father, husband, zaidy, uncle and friend was a true gentleman and kind soul who will live on in our hearts forever.
Gloria Himelstein
Our beloved mother, wife, bubie, aunt and friend was a beautiful soul and inspiration to all. Always loving, forever loved. Dance on.
Hunsi Swankey
Hun-see
A beautiful pianist, mother, grandmother, friend, activist, leader, teacher.