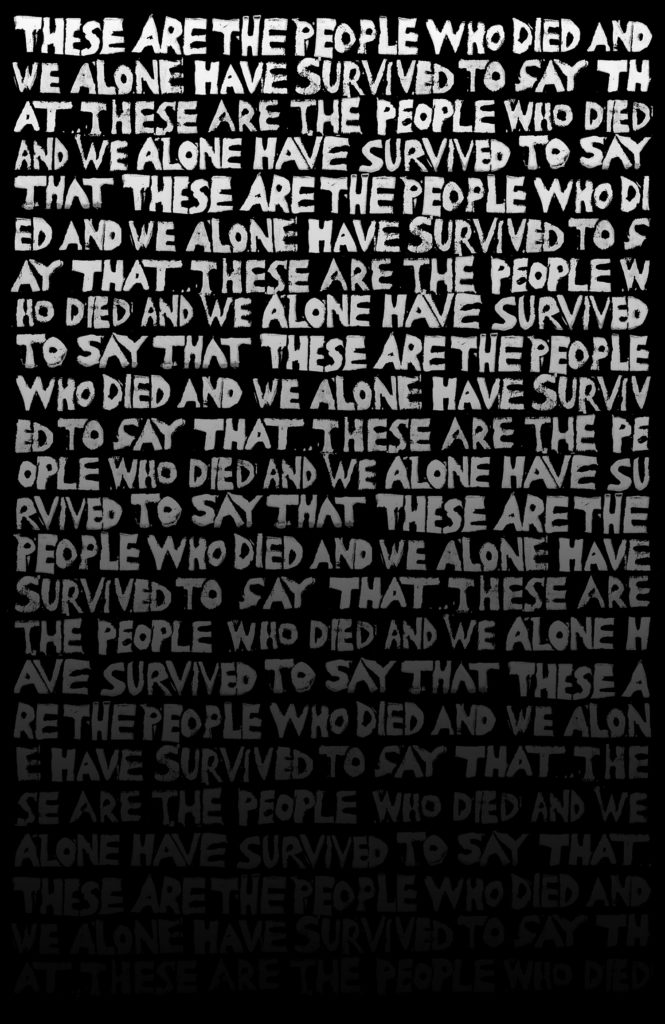 The Name of the Dead
Pronunciation
(if you feel it would be useful)
About the Dead
Alan Selwyn Rubensohn
1954 - 1973

Helen Ried
Helen Ree-dull
1921 - 2019

Brigitta Falconer
bree-getta Fall-cone-er
1940 - 1917

Kumaravelu Kanagasekarampillai
1957 - 2015

Kanakambikai Kanagasekarampillai
Kanakambigai
1956 - 2009

Rhea (Maud) Evans-Rowland
English
Mother, grandmother, camp director. Supported the arts unwaveringly.
Bill (William David) Rowland
English
A potter who built his own home in the country and was truly living the dream.
Betty Fortune-Larocque
English
1920 - 2020
Mother of 6. Traveller, orphan, beauty until the end.
Cynthia Bronfman
1963 - 1979

Filomena De Melo
(Phil-o-men-a)
1963 - 2020

Liba Berry
Lee-ba Berry
1948 - 2015
Mother, kindred, editor, teacher, fierce and beautiful.
Adam Joseph Pawlak
Tennis at 5 years old, golf at 18 years old & the dream to be a chef was born at George Brown college. Famous for his bbq pizza.
Giacomo Brunino
Jack - omo
A deeply loving, selfless, compassionate, gentle, soul
Claire Elisabeth Milne
Only 21. forever missed
Rob Bartlett
Died way too young. best friend to Allan Spencer
Donna Arbeau
Wife to Tom Spencer, Mother to Allan.
Scott Scagnetti
great smile
Tom Boyle
Skateboarder
Ken Cohoon
Husband of Anne father the cheryl
Michael Gallagher
rugby referee
Grahme Wignal
Liverpool
Lorraine Syrette
Mother to \morgan, neil and tristan. Husband to billy
Joseph David Parum
Husband to Courtney. Father to Joey and Johnny
Courtney Jai Lynne Sayliss-Chong
Wife to Joe. Mother to Joey and Johnny
David Lambert
Legend....father of Sophie and Richard Lambert. Grandfather to Darcy and Kittie
Robin Edwards
Best Friend of Zoe Thorn. Ballerina in the sky, loved by so many
Roy
Stevens
Grandfather to Zoe Thorn
Justin Bokma
1974 - 2016

Brandon Crewson
A son, a father, a brother
Peter Keith Crewson
2019
Father, husband, friend, recently gone and deeply missed.